The Victorian age saw the formation of large numbers of religiously inspired organizations and movements. The missionary movement was the first of these movements to develop its own press, which was the largest religious press until it was surpassed by the temperance press in the mid-nineteenth century. Most of the missionary press was the product of denominational missionary societies or of missionary societies serving a group of denominations. Each society published magazines reporting the progress and difficulties faced in the missionary fields for their contributors. They also published periodicals for a popular audience, and juvenile magazines. While the basic function of the missionary press was to generate support for the missionary work, the periodicals also provided geographical and cultural information for the readers.
Title page of Illustrated Missionary News: Containing Missionary Intelligence from all parts of the World. (London: S. W. Partridge &Co., March 1, 1879) No. 159.
| | |
| --- | --- |
| Caption: NATIVES OF KHONDISTAN, PROVINCE OF ORISSA, INDIA. purchasing a Meriah for sacrifice to the goddess of the earth. | p. 33 |
Title page of The Regions Beyond and Illustrated Missionary News ed. Mrs. H. Grattan Guinness (London: Elliot Stock, July, 1884) Vol. 18 No. 7.
| | |
| --- | --- |
| | p. 104 |
Caption: DANCING DERVISHES IN A MOHAMMEDAN MOSQUE.
Vol. 18 No. 3, March 1, 1884, p. 33.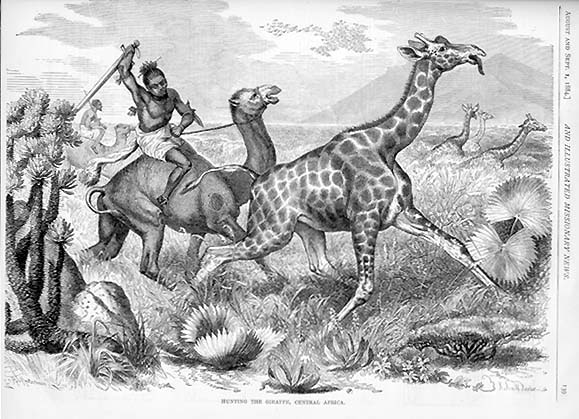 Caption: HUNTING THE GIRAFFE, CENTRAL AFRICA
Vol. 18 Nos. 8 & 9, August and Sept 1, 1884, pp. 139.
China's Millions. (London: Morgan and Scott, July, 1877) No 25, p. 85.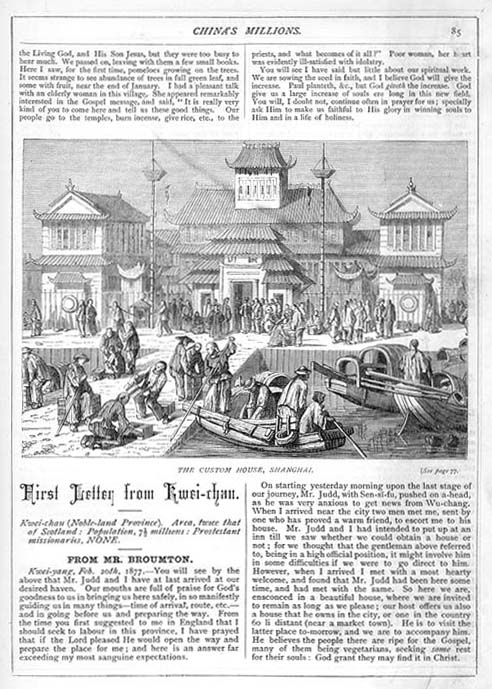 China's Millions was published by the China Inland Mission, a "faith mission" of volunteers without formal denominational support.
top of page
Title page of Medical Missions at Home and Abroad. (London: John F. Shaw and Co., July 1898)
Published by the Medical Missionary Association, a nondenominational society.

Christ said, 'Go preach,' but He also said, 'Go heal.' Some object to medical missions because 'it is only a utilitarian way of working.' Is that so? Have we no indications of the Master's mind in the method? When He healed, did He only heal as a sign of His power, or for the relief of those whom He had come to seek and to save? Primarily for the latter. In point of fact His deeds of healing were often done in secret, and evidently not, therefore as signs at all, but just to prove His willingness to do good-as proofs of His love, but not of His power at all. We cannot reach His ideal, but we may follow His method. We may seek to do good to the body as well as to the soul of our suffering fellow-man, and so to furnish forth an object-lesson of the love of our Lord. Christ took that parable of the Good Samaritan as the best illustration of neighbourliness, and as the best antiseptic against selfishness.

(from the speech of Dr. Neve at the Annual Meeting, reported on p. 149)
top of page
Mercy and Truth: A Record of C.M.S. Medical Mission Work. (London: Church Missionary Society, January 1899) Vol. III No. 25.

p. 13
| | |
| --- | --- |
| Mercy and Truth was founded in 1897 to report on, and generate support for, the Church Missionary Society's medical missions. | pp. 5-6 |
Title page of A Quarterly Token for Juvenile Subscribers, A Gift from the Church Missionary Society. No. 30, July 1863. In The Church Missionary Quarterly Token. Nos. 1 to 36. (London: Church Missionary House, 1869)
| | |
| --- | --- |
| | This periodical was published by the Church Missionary Society, an evangelical Anglican missionary society founded in 1799, as "a sure mark of our real regard for the kind services and valued help of our young friends, and of our desire to encourage them from time to time to abound more and more in the work of the Lord." (p. 2, No. 1, 1856). |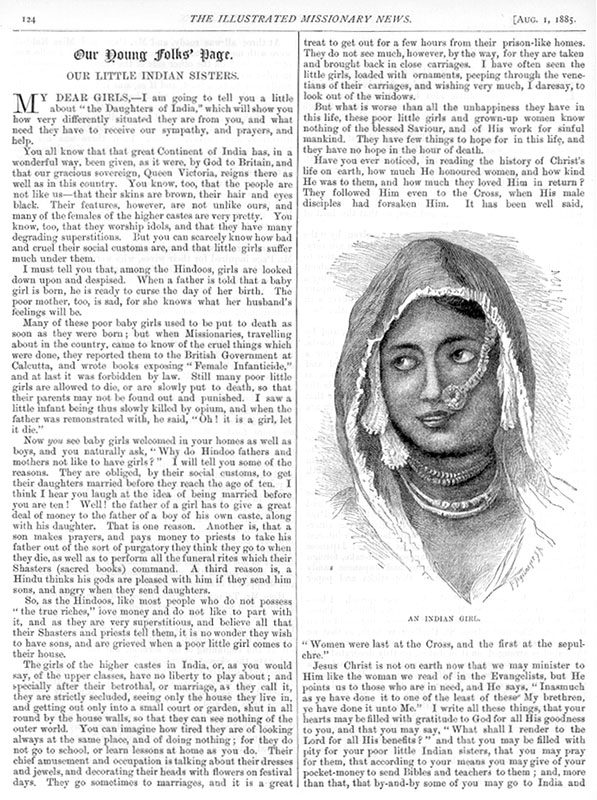 | | |
| --- | --- |
| While some missionary societies published periodicals for children, other societies provided a section for children in their periodical for adults. This article is from the section for children: "Our Young Folks' Page" of The Illustrated Missionary News (London: S. W. Partridge &Co., August 1, 1885) pp. 124-125. | |
top of page
Bibliography: Altholz, Josef L. The Religious Press in Britain, 1760-1900. Contributions to the Study of Religion Number 22. Ed. Henry Warner Bowden (Westport: Greenwood Press, 1989).
This exhibit was prepared by Jerry Anne Dickel, Student Assistant at the Yale Divinity Library.
---

Send comments or questions to Divinity.Library@Yale.edu
URL=http://divinity-adhoc.library.yale.edu/Exhibits/exhibit1.htm