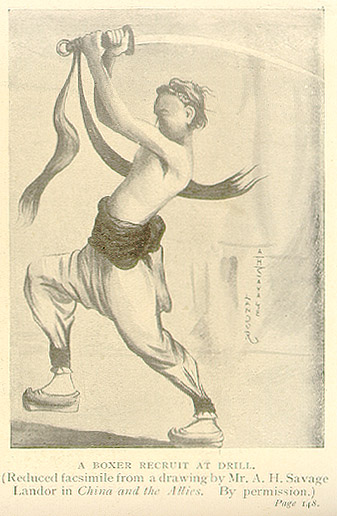 The Boxer Rebellion was a religious, anti-foreign movement in China that begin in early 1900 and led to the deaths of many Christians, both missionaries and Chinese converts. Members of this movement were called "Boxers" by Westerners because of their rituals of martial arts and calisthenics. They belonged to a secret society in northern China that believed that Western influences were destroying Chinese culture. The aim of the Boxers was to overthrow the Qing Dynasty and expel all foreigners and foreign influences from China.

The China Records Project Collection at the Yale Divinity School Library contains valuable documentation of the Boxer Rebellion among the papers of missionaries. In the Arthur Judson Brown Papers, for example, "Book VI' of Brown's 1901-1902 diary, was written during Brown's visit to China in the aftermath of the Boxers, and records what he saw at the Pao ting-fu mission that was devastated by the Boxers.

The papers of Dr. Irrenius J. Atwood include information about the Shansi Mission, an outgrowth of a "China Band" formed in the Oberlin Theological Seminary, 1879-80, incl. re. Boxer activities, and excerpts from the journal of Susan Rowena Bird, a missionary martyred at Taiku in 1900.

Shown below are some photographs and documents from the collections of the Yale Divinity School Library that illustrate the impact of the Boxer Rebellion on the missionary movement in China.