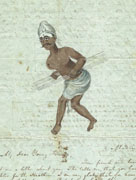 This exhibit was prepared in conjunction with the June 2015 meeting of the Yale-Edinburgh Group on History of the Missionary Movement and World Christianity, the theme of which was "Religion and Religions in the History of Missions and World Christianity." Shown here are selections from the exhibit that illustrate how world religions were portrayed by missionaries to their supporters and the public at home during the 19th and early 20th centuries.
These images and books are drawn from the Yale Divinity Library's renowned Day Missions Collection, which includes books, periodicals, pamphlets, manuscripts and archives, photographs, postcards, and ephemera.
| | | |
| --- | --- | --- |
| | Much of what the American and European public learned about world religions during the 19th and early 20th centuries came from writings and images supplied by missionaries working overseas. While some missionaries had respect for - or at least curiosity about - non-Christian faiths, most portrayed these faiths as heathen practices from which conversion to Christianity would bring freedom. | |
Missionaries' writings directed at children provide an interesting sample of how world religions were portrayed. Displayed here are etchings and text from Dr. Scudder's Tales for Little Readers about the Heathen, written by John Scudder, American missionary to India, and published by the American Tract Society in 1849.

Below is a hand-illustrated letter sent by John Scudder to a Sunday School group in the U.S.:
Examples of missionary periodicals for children, which often described the religions and customs of children abroad:
Photographs taken by missionaries were an important resource for depicting religious practices. Many additional photographs can be viewed
in the International Mission Photography Archive, to which the Yale Divinity Library has contributed more than 10,000 photographs.
| | |
| --- | --- |
| A funeral procession in China, from the Roberts Family Papers, RG 8 | A call to Muslim prayer, West China, 1936, from the Claude Pickens Papers, RG8 |
| | |
| --- | --- |
| These photographs are from an album compiled by W.K. Norton, a missionary serving in Benares, India with the Pilgrims Mission. Norton's photographs illustrate Hindu men engaged in physical contortions to gain religious merit and other forms of religious practice. | |
| | |
| --- | --- |
| Missionary postcards were produced by mission sending agencies and distributed throughout Europe and America with the intent of promoting support for the missions' work and providing information about non-Western peoples and customs. | |
| | |
| --- | --- |
| | |
| Artifacts such as those shown below would have been used by missionaries traveling to churches in the U.S. to garner support for their work. The "witch doctor's beads" and "magic gourd" illustrated heathen practices from which the missionaries sought to convert the Africans. | |
| | |
| --- | --- |
| T | |
Books written by missionaries had a major influence on the perceptions of world religions that were developed by people in the West during the 19th and early 20th centuries. Illustrations, anecdotal narratives, and more scientific studies were important sources of information (or misinformation) about non-Christian religions during this era. Shown below are a few examples of books and illustrations that appeared in the exhibit:
| | |
| --- | --- |
| | |
| | |
| | |
For more information about Special Collections at the Yale Divinity Library, contact the library at divinity.library@yale.edu.
© 2015 Yale University Library
Last modified: 1 October 2015
URL: http://divinity-adhoc.library.yale.edu/Exhibits/WorldReligions.html
Please send comments to: Divinity.Library@yale.edu.