Collected Documents > Student Newspapers and Journals
Oberlin College
"Shansi's Fourty-first" The Oberlin Review (January 14, 1947).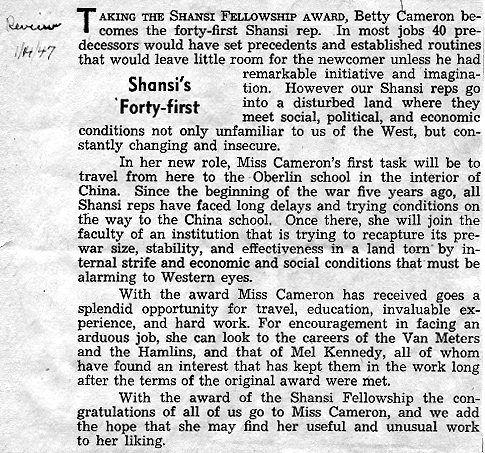 This material may be protected by copyright law [Title 17 U.S. code]. These reproductions are copies of documents deposited in the Oberlin College Archives. They have been furnished solely for this special, multi-institutional project and for the purpose of private study, scholarship, or research. Photographs cannot be reproduced for publication without the permission of the Oberlin College Archives.

student newspapers and journals
collections | about the project | colleges | links
home | search

The American Context of China's Christian Colleges project is based at Wesleyan University.
For more information, please contact the Project Director or Website Coordinator.
http://www.library.yale.edu/div/colleges/
Last updated:

design by reedsparrow.com